Glansholms Bokhandel & Antikvariat
Söker du efter "Equal rites : a Discworld novel" av Terry Pratchett? Du kan sluta leta. Våra experter i antikvariat hjälper dig eftersöka boken - utan extra kostnad - och den levereras direkt hem i brevlådan.

Information från förlaget
Engelsk utgåva
Equal rites : a Discworld novel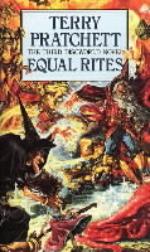 The last thing the wizard Drum Billet did, before Death laid a bony hand on his shoulder, was to pass on his staff of power to the eighth son of an eighth son. Unfortunately for his colleagues in the chauvinistic (not to say misogynistic) world of magic, he failed to check on the new-born baby's sex...This is a third hilarious adventure by the author of "The Colour of Magic" and "The Light Fantastic."
Utgåvor
Pocket
Förlag: Transworld
Lagerstatus: Definitivt slut
Utgivningsdatum: 19870101
9780552131056
Bok: 211603

Anmäl textfel