Glansholms Bokhandel & Antikvariat
Söker du efter "Moving pictures : a Discworld novel" av Terry Pratchett? Du kan sluta leta. Våra experter i antikvariat hjälper dig eftersöka boken - utan extra kostnad - och den levereras direkt hem i brevlådan.

Information från förlaget
Engelsk utgåva
Moving pictures : a Discworld novel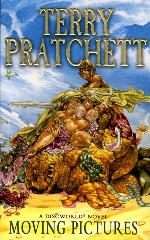 The alchemists of the Discworld have discovered the magic of the silver screen. But what is the dark secret of Holy Wood hill? It's up to Victor Tugelbend ("Can't sing. Can't dance. Can handle a sword a little.") and Theda Withel ("I come from a little town you've probably never heard of") to find out..."Moving Pictures", the ninth "Discworld" novel is a gloriously funny saga set against the background of a world gone mad!
Utgåvor
Pocket
Förlag: Transworld
Lagerstatus: Definitivt slut
Utgivningsdatum: 19911101
9780552134637
Bok: 210924

Anmäl textfel