Glansholms Bokhandel & Antikvariat
Söker du efter "The Fifth elephant : a Discworld novel" av Terry Pratchett? Du kan sluta leta. Våra experter i antikvariat hjälper dig eftersöka boken - utan extra kostnad - och den levereras direkt hem i brevlådan.

Information från förlaget
Engelsk utgåva
The Fifth elephant : a Discworld novel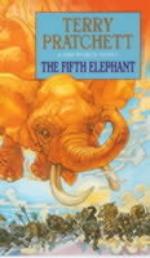 Sam Vimes is a man on the run. Yesterday he was a duke, a chief of police and the ambassador to the mysterious, fat-rich country of Uberwald. Now, he has nothing but his native wit and the gloomy trousers of Uncle Vanya (don't ask). It's snowing. It's freezing. And if he can't make it through the forest to civilization there's going to be a terrible war. But there are monsters on his trail. They're bright. They're fast. They're werewolves - and they're catching up. "The Fifth Elephant" is Terry Pratchett's latest installment in the "Discworld" cycle, this time starring dwarfs, diplomacy, intrigue and big lumps of fat.
Utgåvor
Pocket
Förlag: Transworld
Lagerstatus: Definitivt slut
Utgivningsdatum: 20001101
9780552146166
Bok: 211620

Anmäl textfel