Glansholms Bokhandel & Antikvariat
Söker du efter "Feet of clay : a Discworld novel" av Terry Pratchett? Du kan sluta leta. Våra experter i antikvariat hjälper dig eftersöka boken - utan extra kostnad - och den levereras direkt hem i brevlådan.

Information från förlaget
Engelsk utgåva
Feet of clay : a Discworld novel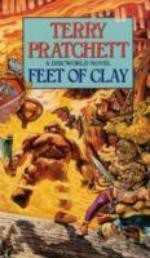 There's a werewolf with the pre-lunar tension in Ankh-Morpork. And a dwarf with attitude and a golem who's begun to think for itself. But for Commander Vimes, Head of Ankh-Morpork City Watch, that's only the start...There's treason in the air. A crime has happened. He's not only got to find out whodunit, but howdunit too. He's not even sure what they dun. But soon as he knows what the questions are, he's going to want some answers.
Utgåvor
Pocket
Förlag: Transworld
Lagerstatus: Definitivt slut
Utgivningsdatum: 19970501
9780552142373
Bok: 211616

Anmäl textfel