Glansholms Bokhandel & Antikvariat
Söker du efter "Men at arms" av Terry Pratchett? Du kan sluta leta. Våra experter i antikvariat hjälper dig eftersöka boken - utan extra kostnad - och den levereras direkt hem i brevlådan.

Information från förlaget
Engelsk utgåva
Men at arms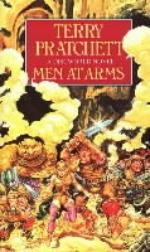 'Be a Man in the City Watch! The City Watch needs Men!'. But what it's got includes Corporal Carrot (technically a dwarf), Lance-constable Cuddy (really a dwarf), Lance constable Detritus (a troll), Lance constable Angua (a woman...most of the time) and Corporal Nobbs (disqualified from the human race for shoving). And, they need all the help they can get. Because they've only got twenty-four hours to clean up the town and this is Ankh-Morpork we're talking about...
Utgåvor
Pocket
Förlag: Transworld
Lagerstatus: Definitivt slut
Utgivningsdatum: 19941110
9780552140287
Bok: 211612

Anmäl textfel