Glansholms Bokhandel & Antikvariat
Söker du efter "Pyramids : a Discworld novel" av Terry Pratchett? Du kan sluta leta. Våra experter i antikvariat hjälper dig eftersöka boken - utan extra kostnad - och den levereras direkt hem i brevlådan.

Information från förlaget
Engelsk utgåva
Pyramids : a Discworld novel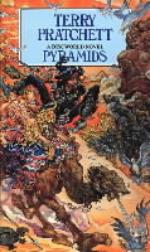 Being trained by the Assassin's Guild in Ankh-Morpork did not fit Teppic for the task assigned to him by fate. He inherited the throne of the desert kingdom of Djelibeybi rather earlier than he expected (his father wasn't too happy about it either), but that was only the beginning of his problems..."Pyramids" (the book of going forth) is the seventh Discworld novel - and the most outrageously funny to date.
Utgåvor
Pocket
Förlag: Transworld
Lagerstatus: Definitivt slut
Utgivningsdatum: 19900601
9780552134613
Bok: 211607

Anmäl textfel