Glansholms Bokhandel & Antikvariat
Söker du efter "Wintersmith" av Terry Pratchett? Du kan sluta leta. Våra experter i antikvariat hjälper dig eftersöka boken - utan extra kostnad - och den levereras direkt hem i brevlådan.

Information från förlaget
Engelsk utgåva
Wintersmith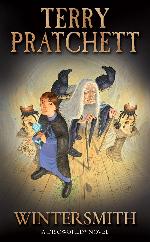 Utgåvor
Pocket
Förlag: Random House UK
Lagerstatus: Definitivt slut
Tiffany Aching put one foot wrong, made one little mistake...
And now the spirit of winter is in love with her. He gives her roses and icebergs, says it with avalanches and showers her with snowflakes - which is tough when you're 13, but also just a little bit... cool.
And just because the Wintersmith wants to marry you is no excuse for neglecting your chores. So Tiffany must look after Miss Treason, who's 113 and has far too many eyes, learn the secret of Boffo, catch Horace the cheese, stop the gods from seeing her in the bath -
'Crivens!'
Oh, yes, and be helped by the Nac Mac Feegles - whether she wants it or not.
But if Tiffany doesn't work it all out, there will never be another springtime...
Utgivningsdatum: 20100701
9780552562898
Bok: 212734

Anmäl textfel