Glansholms Bokhandel & Antikvariat
Söker du efter "Guards! Guards! : a Discworld novel" av Terry Pratchett? Du kan sluta leta. Våra experter i antikvariat hjälper dig eftersöka boken - utan extra kostnad - och den levereras direkt hem i brevlådan.

Information från förlaget
Engelsk utgåva
Guards! Guards! : a Discworld novel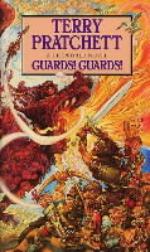 This is where the dragons went. They lie...not dead, not asleep, but...dormant. And although the space they occupy isn't like normal space, nevertheless they are packed in tightly. They could put you in mind of a can of sardines, if you thought sardines were huge and scaly. And presumably, somewhere, there's a key..."Guards! Guards!" is the eighth "Discworld" novel - and after this, dragons will never be the same again!
Utgåvor
Pocket
Förlag: Transworld
Lagerstatus: Definitivt slut
Utgivningsdatum: 19901101
9780552134620
Bok: 210923

Anmäl textfel