Glansholms Bokhandel & Antikvariat
Söker du efter "Going postal" av Terry Pratchett? Du kan sluta leta. Våra experter i antikvariat hjälper dig eftersöka boken - utan extra kostnad - och den levereras direkt hem i brevlådan.

Information från förlaget
Engelsk utgåva
Going postal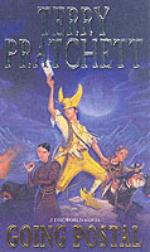 Moist von Lipwig is a con artist...and a fraud and a man faced with a life choice: be hanged, or put Ankh-Morpork's ailing postal service back on its feet. It's a tough decision. But he's got to see that the mail gets through, come rain, hail, sleet, dogs, the Post Office Workers' Friendly and Benevolent Society, the evil chairman of the Grand Trunk Semaphore Company, and a midnight killer. Getting a date with Adora Bell Dearheart would be nice, too...
Utgåvor
Pocket
Förlag: Transworld
Lagerstatus: Definitivt slut
Utgivningsdatum: 20051001
9780552149433
Bok: 210928

Anmäl textfel