Glansholms Bokhandel & Antikvariat
Söker du efter "Jingo : a Discworld novel" av Terry Pratchett? Du kan sluta leta. Våra experter i antikvariat hjälper dig eftersöka boken - utan extra kostnad - och den levereras direkt hem i brevlådan.

Information från förlaget
Engelsk utgåva
Jingo : a Discworld novel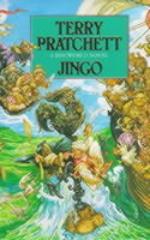 Discworld goes to war, with armies of sardines, warriors, fishermen, squid and at least one very camp follower. As two armies march, Commander Vimes of Ankh-Morpork City Watch faces unpleasant foes who are out to get him...and that's just the people on his side. The enemy might be even worse. "Jingo", the 21st in Terry Pratchett's phenomenally successful "Discworld" series, makes the World Cup look like a friendly five-a-side.
Utgåvor
Pocket
Förlag: Transworld
Lagerstatus: Definitivt slut
Utgivningsdatum: 19981101
9780552145985
Bok: 211617

Anmäl textfel